If you are planning to have an autumn wedding, but don't have a clue of how to go about planning it, don't worry.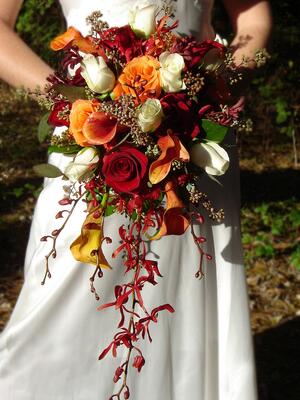 There are 3 things you can take into consideration when planning a fall wedding so your special day is comfortable, stunning and unique for a lifetime of memories!
To make your autumn wedding truly stunning, it is best to use traditional fall hues. Colors that resonate the season include black, bronze, burgundy, chocolate, cranberry, crimson, gold, ivory and orange. You can easily fit in fall colors by way of your bouquet, bridesmaids' dresses, groomsmen attire or wedding decor.
2. Seasonal Foods & Beverages:
Another way to make your fall wedding reminiscent of fall is to have traditional fall foods and beverages at your reception. You can pair roast beef and roasted turkey with an assortment of caramelized carrots, pears, pomegranates, pumpkin and winter squash.