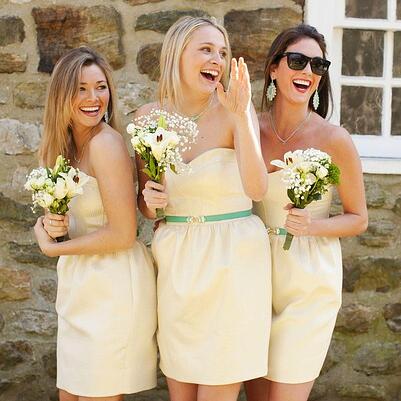 You've found the groom, the venue, and your perfect wedding dress--but now don't forget to dress the ladies who will be standing by your side on the big day. Bridesmaid dresses can be tricky, and sometimes the prospect of picking out a dress that fits the wedding and your bridesmaids can be overwhelming. Don't panic: if follow the suggestions below, both you and your bridesmaids should be happy with the result.
1. Be budget-minded
You can't expect your bridesmaids to break the bank on a dress that--let's be honest--they probably won't have an opportunity to wear again. When you're first going dress shopping, decide on a reasonable price per dress and stick to it.
2. Stick to a timeline
You should begin looking for your bridesmaid dresses six-to-eight months before the wedding. This leaves plenty of time for you to pick the perfect dress, have fittings, and get alterations done, and doesn't leave you stressing for time at the last minute.
3. Complement your style
You don't want the bridesmaid dresses to clash with your dress--or even worse, overshadow your dress completely. You also want to keep in mind the colors, theme, and location of your wedding. A short, flashy dress may not fit seamlessly with a traditional church wedding, and a taffeta gown probably won't complement a boho beach wedding.