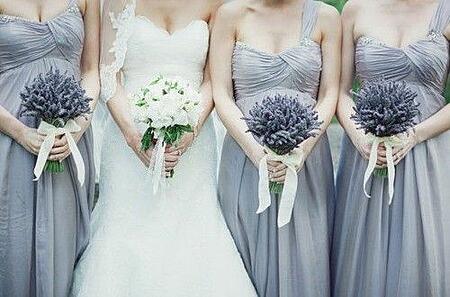 From the day he asked you to marry him, you've probably had an idea of what colors you want your wedding to be.
1. Tiffany Blue
Even though your dream wedding may be Tiffany bluewith white accents, there are a few things to consider before selecting your colors.
First, where are you having your ceremony and reception? You may want your colors to be complemented by the venues so taking into account the colors already present is important.
2. Lavender
For example if your reception is in a lodge filled with moose heads, deep red walls and carpeting, your Lavender color scheme might not exactly match the decor already present. You should consider the lighting, carpets, and decor already in place.
3. Sand
If your church is ultra modern with big windows and a lot of light, Sand might not be a great color as it will look white.
Another aspect to take into consideration is the season. You definitely want your wedding colors to be seasonal. Darker colors, jade tones, or muted monochromatic colors are popular in the fall and winter. Spring and summer play host to pastels and brighter colors.
4. FreesiaA wedding in January could look silly if the main color was Freesia. On the other hand, a wedding in July with bright Freesia would look great!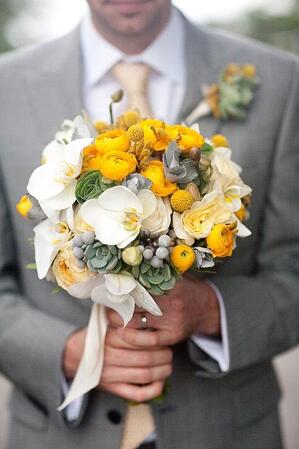 Another important feature in wedding color styles, is how many colors do you want to choose. Generally people choose three colors: one to be the main color, a second to support, and a third to accent. When choosing your three colors, you can choose within a few color schemes. Complementary colors are those that are across from each other on a color wheel, such as blue and orange. Another is monochromatic colors, which are a variation on one color such as bright red, dark red, maroon, and crimson. Finally there are analogous colors, which lie next to each other on the color wheel. These might be like sea green, blue green, and sky blue.
When choosing your three colors, you can focus in on one of these color schemes to narrow down your choices. Do you want your wedding to be monochromatic? Or would you prefer something with complementary colors? You can also do themes, such as vintage colors or modern colors.
On your wedding day, you want everything to look beautiful. Choosing your colors may seem daunting, but with a little time and effort everything will be beautiful. Taking into account the season, the venues, and what appeals to your style will ensure that your wedding day is gorgeous. For more help in planning your wedding download our free guide to hiring a wedding planner.
Good Luck and Best Wishes, from your friends at New Hope Soap.