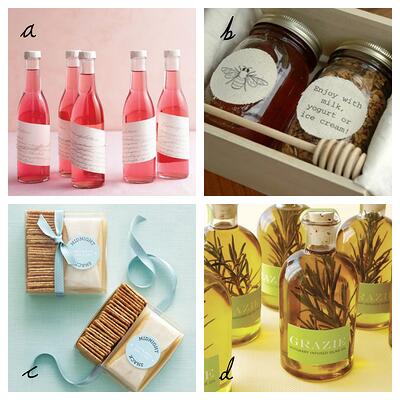 Wedding favors are a way of thanking your guests for participating in your special day. They are meant to communicate your appreciation for guests that traveled, guests that had to take the day off of work, or guests that hired a babysitter to be able to witness your moment. They are also the most lasting impression that a guest has of your event, as it's a piece of the wedding that goes home with them.
Unfortunately, most wedding favors find their way into the trash bin only a matter of days later. This is not only a waste of money for you, but also gives your guests a pang of guilt as they toss that silly plastic diamond ring or mini photo of the bride and groom into the trash. How do you avoid this? By giving your guests a unique gift that they will actually want! Here's a look at the top 20 most popular wedding favor ideas.
A Rose By Any Other Name...
If you're interested in saving a bit of extra money, purchase potted rose bushes and attach cute little tags with your guests names written on them. Bunch them in the center of the table to double them up as centerpieces and your guests can take them home at the end of the evening.
Personalized Plants
Potted plants are all the rage these days. Using small terracotta pots, you can print out labels that match your wedding theme. Print your guests names on the labels and use the pots as place cards as well as favors. These can also be arranged in the center of the table to double as a centerpiece.
Seed Packets
Purchase seeds that match either the season or theme of the wedding. You can attach name cards or little thank you notes with twine or ribbon for added flare.
Chocolate Favors
Another fan favorite is personalized chocolate. This can be as simple as jotting down a guests name on a paper flag and placing into a fancy piece of individually wrapped chocolate. Some couples choose to order entire chocolate bars with custom labels.
Small scented candles are always a hit. This can be customized with labels or left as is. Be sure to choose candle scents that fit the theme and season of the wedding, but are neutral scents for both male and female guests.
Create custom monograms for each guest. These can be placed on custom book marks, magnets, or key chains. Make sure to use your wedding colors when designing the monograms.
Candied Fruit
Toffee or Candied apples, chocolate dipped bananas, or caramel covered strawberries ensure the guests will eat them on the way home! Wrap in colored cellophane and add a hand written name card for an extra touch.
Homemade Jam
Everyone loves jam. Making it at home is both easy, inexpensive, and gives a personal thank you to each and every guest. Make several different flavors to allow guests to swap out ones any that they may not like.
Cake Pops
Cake pops are pretty to look at as well as good to eat, allowing you to use them as a centerpiece. Decorate with matching colors and arrange in a pot or mason jar for a colorful, fun centerpiece.
Whether you use shaped soaps or decoratively wrapped soaps, make sure to choose a scent that matches your wedding theme or season. Use handmade labels with guests' names for an added personal touch.
Mini Bottles Of Champagne
To save on the bottle fees for champagne toasts, you can place individual mini bottles on the tables. Decorate with thank you notes or little sayings about toasting the happy couple. Some couples even skip the glassware and attach a straw to each bottle for a quirky new toast.
Coloring Books & Pencils
For the children attending the event, themed coloring books make a great favor. It keeps them entertained throughout the proceedings and makes them feel included. Make sure to give them each their own set of fancy colored pencils. Adding name tags and twine or ribbon to each pencil set will make it seem more on-purpose and less like a restaurant.
Buttonhole Favors
For the fellas in the crowd, leave out buttonhole flowers. This will be great for pictures, as everyone would have matching floral pieces.
Fortune Cookies
Check your local DIY stores for a fortune cookie kit. They're simple to make and a blast to fill. You can make the fortunes inside thank you notes, funny or sentimental sayings, or just fun facts. It's up to your imagination. Plus, it's a fun thing for you and your other half to do together pre-wedding.
Apples
So simple. Tie a beautifully written note or name tag to the stem of the apple and place on each plate setting. Use a red apple for a fall or winter wedding and a green one for spring or summer.
Music
Create custom CDs containing the music included in your wedding ceremony. Include some personal favorites at the end for an added touch. Use jewel toned CD cases and print out labels with your wedding invitation or a "thank you for joining us" note.
Luggage Tags
If you're having a destination wedding, have a little more fun. Create luggage tags with each guest's name. Have little sayings on the back such as, "Empty bottles inside" or "Just dirty clothes" for a little extra giggle.
Candy or Cookie Buffets
Clear jars of cookies or color-themed candies are not only a stunning presentation, but a way to make sure guests take their favors home. Create a buffet table using different sized jars and leave a stack of take-home containers.
Coasters
Every house needs coasters, yet hardly anyone buys them. Have coasters created out of "Instagram-Style" shots, such as your rings laid together on a tree stump, or the bride's shoes for an added artsy touch.
Flip Flops
If you're having a spring or summer wedding, leave a wicker basket or wooden barrel full of flip flops at the entrance to the reception. The women in attendance will love you for the excuse to slip off those heels.
For more information on how to add a unique, stylish touch to your wedding favors, please contact us.