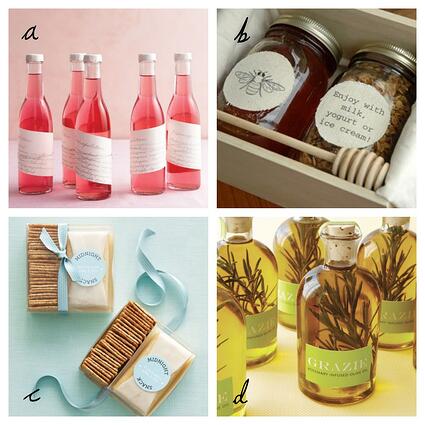 Almost anything can be used as a wedding favor, as long as it's heart-shaped, or you tie a cute saying to it, or label it with "Mr. and Mrs. John Smith, August 2014," or whatever you want to say about your wedding day. Here are 51 wacky and fun wedding favor ideas that people have actually used! Check out this Pinterest Pin Board with examples of all 51 wedding favor ideas!
Wedding Favor Ideas - Food

Mints
Cookies
Candy
Honey jars
Tea bags
Goodie Bags
Fortune cookie
Mini M&M tubes
Cocktail mix
Hot chocolate mix, lemonade mix, cider mix, etc.
Gum
Bottles of olive oil, barbecue sauce, vinegar, maple syrup, etc. maple syrup
Wedding Favor Ideas - Decor
Asian fan
Votive candle in fun shapes
Electric candle
Magnets
Candle holders
Tree ornaments
Photo frame
Wedding Favor Ideas - Kitchen Stuff
Bottle opener: variety of different shapes and themes
Wine glasses
Tea infusers
Wine charms
Cookie cutters
Coffee scoop
Heart-shaped plates
Mini sparkling cider bottles
Card holders: wood, etc.
Coasters: glass, cork, stone
Cookie jar
Shot glasses
Water bottles
Pizza cutters
Napkin ring
Measuring spoons
Salt and Pepper shakers
Chop sticks
Jars
Ice cream scoop
Cheese spreader
Corks
Can sleeve
Mini teapot/tea set
Whisk
Bottle stoppers
Candy scoops
Sake cup
Candy dish
Mortar and pestle
Flask
Glass mugs
Good Luck on your search for your wedding favors.
New Hope Soap – Unique gift ideas for Wedding Favors, Wedding Gifts, Bridesmaids Gifts. Great gift ideas for the women in your life – gifts for Mom for Mother's day, for anniversaries, birthdays or just because! Personalized gift ideas for your Wife, Girlfriend, Mom, Sisters, and so much more. Let New Hope Soap help you find that perfect personalized gift for that special someone, with the touch of the luxury lifestyle.