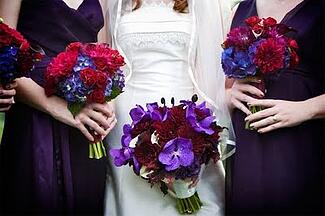 Almost anything can be used as a wedding favor, as long as it's heart-shaped, or you tie a cute saying to it, or label it with "Mr. and Mrs. John Smith, August 2014," or whatever you want to say about your wedding day. Here are 100 wacky and fun wedding favor ideas that people have actually used! Check out this Pinterest Pin Board.
Wedding Favors - Hygiene
Nail files
Chap stick
Sunscreen
Lotion
Wet wipes
Hand soap
Shaped soap
Hand sanitizer
Wedding Favors - Academic
Post-its
Notepads
Bookmarks
Letter openers
Wedding Favors - Nature
Mini flower pots
Seeds
Flowers
Plant starts
Seashells
Goldfish
Wedding Favors - Toys and Stuff for Kids
Legos
Frisbee
Mini gumball machine
Mini wooden sailboat
Mini cowboy hats
Mini bales of hay
Mini measuring tape
Army men
Rubber ducky
Golf balls
Piano keys
Golf pin tees
Snow globes
Bubbles
Bell
Poker chips
Playing cards
Fake diamond rings
Marbles
Wedding Favors - Things You Could Actually Use
Match boxes
Clothes pins
Buttons
Compact mirrors
Key chains
CD of wedding songs
Personalized letter stamps
Tote bags
Luggage tag
Stamps with ink pads
Guitar picks
Ribbon
For more great wedding ideas, go to http://www.newhopesoap.com
If you have any questions or comments, feel free to contact us.
New Hope Soap – Unique gift ideas for Wedding Favors, Wedding Gifts, Bridesmaids Gifts. Great gift ideas for the women in your life – gifts for Mom for Mother's day, for anniversaries, birthdays or just because! Personalized gift ideas for your Wife, Girlfriend, Mom, Sisters, and so much more. Let New Hope Soap help you find that perfect personalized gift for that special someone, with the touch of the luxury lifestyle.