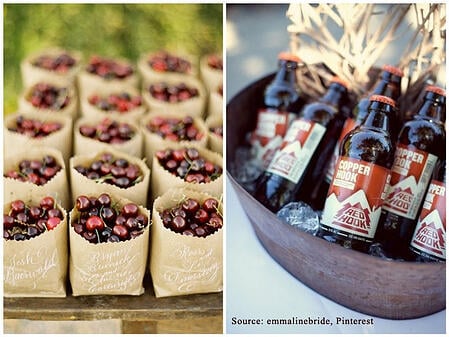 Trying to find the perfect wedding favor is not always an easy task. You want to choose something that shows your guests your appreciation. However, you are concerned that what you choose will just get tossed in a drawer or in the trash after the wedding. To put an end to those concerns, consider giving edible favors. Here are the top 20 most popular wedding favor ideas that are edible.
Cookies: There are many different things that you can do when it comes to cookies. Consider packaging a mix of the bride's and groom's favorite cookies. Attach the recipes to the package for an extra special touch. Fortune cookies are always a hit too. Gourmet cookies shaped as wedding cakes, doves, or other wedding symbols are popular choices among brides. For a fun twist, consider serving milk boxes to go with the cookies.


Chocolates: Chocolates are always a popular choice. From personalized M&M's and wrapped chocolate bars, to Hershey kisses, you can not go wrong with chocolate. Many chocolate companies offer a selection of pre-made chocolate wedding favors that you may want to consider.

Nuts: Candy covered Jordon almonds have been a traditional wedding favor for centuries. Candies pecans make for great choice. There are also sunflower seeds, cashews. Pumpkin seeds would make for a fun choice for a fall or Halloween wedding.


Mini Cupcakes: Mini cupcakes, cake pops, mini bundt cakes, or any other pastry all make for a tasty option. There are many ways to dress up any of these options from fancy liners to boxes and bags. Mini-donuts or breakfast pastries would be a fun way for your guests to start their morning.


Tea, Coffee, Cocoa: Small packages of teas, coffees, and cocoas are a popular trend in edible wedding favors. Considering giving coffees and teas that are in the season of your wedding. Cocoas would be a great choice for a winter wedding.


Spirits: Consider sending your guests home with mini wine bottles filled with the wine that was served with dinner. Small bottles of infused vodka are also an option. Consider choosing flavors that go with the season, or an infused cake flavor would be a good choice too.


Olive oils: Infused oil olives are a trendy wedding favor. These can be bought already made, or you can make them yourself. Consider lemon flavor oil that will go with just about everything. This is one way for the bride and groom to share their love of cooking.


Toffee: Toffee is a treat that is loved by almost everyone. It can be packaged in personalized tins or wrapped in bags tied with pretty ribbons.


Popcorn: Not only is popcorn fun, but there are many flavor options. Kettle corn is trendy, but caramel corn would be a fun fall favor. You cannot go wrong with the basic butter popcorn. Popcorn can be packaged in bags or in disposed popcorn boxes.


Mints: Mints are always a good option for a wedding favor. Whether you package them in personalized tins or package them in other type of container, your guests are going to enjoy them.


Honey: Small jars of honey are a trendy wedding favor. Most of the time they are labeled with a play on the word bee; "we were meant to bee together".


Saltwater taffy: This is a fun option for a beach or nautical theme wedding. Not only is the taffy fairly inexpensive, it comes in an array of colors. This makes it easier to match your wedding colors.


Candy: Candy buffets are a popular option when it comes to wedding favors. You can also use personalized lollipops or candy sticks as favors. Candies like gumdrops are a good choice if you want to match your wedding colors to your favors.


Fudge: From a variety of flavor possibilities to many different packaging possibilities, fudge is a smart choice for a wedding favor.


Mixes: Cookie, cake, and muffin mixes are a fun option. After the guests have had dinner and a wedding cake, they are option to full to eat another treat. This way they can take their mix home and save their treat for another day.


Pretzels: Pretzels are a flexible option for a favor. They can be dipped in a variety of different color coatings to match the wedding theme.


Maple Syrup: When guests are pouring their maple syrup over pancakes or waffles, they will reflect on the wonderful time they had at your wedding. What a great way to start the day.


Truffles: Truffles are considered a decadent treat. They can be a little expensive, but your guests will truly appreciate them.


Spices: Spices are a fun way to thank you guests for coming to your wedding. This is a way for the bride and groom whom enjoy cooking, to share their passion with their guests.


Gum: For a playful favor consider giving your guests mini gumball machines. Gum can also be placed in personalized tins or containers. It is a fun alternative to mints.
Favors are a way to show appreciation to their guests. Edible favors are one way to keep your favor from being put into a drawer to collect dust. To discuss wedding favors or anything else related to your wedding, please feel free to contact us.