By Linda Hilliard - Author of the Book
E-mail Your Weight Away - Diet Dialoges for Women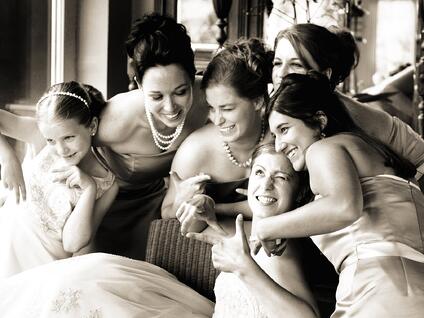 When my eldest daughter got married a few years ago, I had it easy. She planned every detail of her wedding. I just had to show up as the beaming mother-of-the-bride. For my younger daughter: Well, not so much. I was assigned the role of finding the wedding photographer.
I learned several obvious, but basic facts about wedding photographers: Some are good/some awful; they can cost a fortune; and you have to shop around. Oh, and I also learned: DO NOT use your cousin's son who took a photo class in high school and swears he'll do a "good job."
Here are a couple of quick tips:
Seek Recommendations - Contact friends, family and recent brides. Check with wedding reception venues; they have observed the best and worst in photographers and may advise you.


Costs - Wedding photographers are expensive (which does not mean you consider your cousin's son!) Establish a budget, but anticipate that you may need some flexibility. It's okay to negotiate. There are a lot of photographers and some may be willing to drop their price a bit.


Consider Photographic Styles - Your wedding reception at a grand hotel? Obviously you would want a different type of photographer than if the wedding will be held in a field of daisies behind your house. Check out websites and portfolios.


The Wedding Package - Know what the wedding package includes - from photo albums (for not only the couple but the parents) to DVD of images and so on.


Photographer's Personality - Personally I hate a wedding photographer who steals the wedding by demanding that the entire event goes on hold while he or she "gets the shot." If you have a bad feeling about the photographer's personality - your guests will get a worse feeling. For me, it also matters how the photographer dresses. At a wedding with all the guests dressed to the "9s", you don't want a photographer who looks like he just rolled out of bed.


And the legal stuff - Read the contract carefully - very carefully. What if: the wedding is canceled (eek), there's a bad snowstorm, the camera fails or the photos are unacceptable?
In my mind, my daughters' weddings were two of the best parties ever. Everyone was happy and beautiful and having a great time. Capture that time with the right photographer.
New Hope Soap – Unique gift ideas for Wedding Favors, Wedding Gifts, Bridesmaids Gifts. Great gift ideas for the women in your life – gifts for Mom for Mother's day, for anniversaries, birthdays or just because! Personalized gift ideas for your Wife, Girlfriend, Mom, Sisters, and so much more. Let New Hope Soap help you find that perfect personalized gift for that special someone, with the touch of the luxury lifestyle.