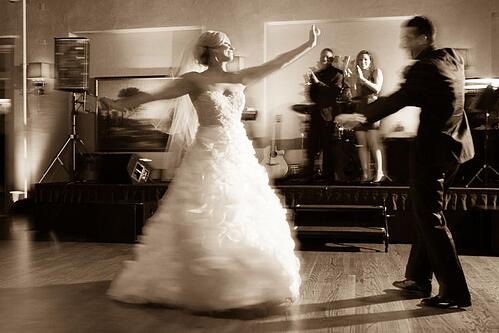 You are probably in the middle of planning the biggest day of your life. You probably have a checklist and are crossing things off of the list. Now, it is time for the music and you need some advice. You have decided that you want a wedding DJ. So, how do you choose the perfect one?
1. You want to choose a DJ who specializes in weddings, not nightclubs.
DJing at weddings is much different than nightclubs. You want someone who is comfortable at weddings and has all of the songs that are usually played at wedding receptions.
2. Do not focus on the cost.
You are not only paying for the DJ, but his equipment and his experience. You will have to pay a little more for the perfect DJ. Experience can make the difference between a good wedding and one where everyone remembers how horrible the DJ was.
3. If you have a local wedding planner, trust her.
Often, wedding planners have people that they are comfortable working with, from wedding photographers and videographers to caterers and DJs. They know the good DJs from the bad ones. Always trust their judgment.
4. Ask for references.
It is important that your wedding DJ has references and is alright with you checking on them. You deserve to hear what others say. If he won't let you talk to anyone, he might be hiding something.
5. Meet the DJ before the event.
Everyone's style of music is different. You need to at least talk to the DJ and let him know exactly what you want and do not want at the reception. You might have a no play list plus some songs that you definitely want to hear. It is also important that he learns a little bit about you and your fiancé since DJs often talk in between songs.
6. Does the DJ have a lot of different music?
Even though you don't need a DJ with a ton of songs, it is important that he has a wide variety to make everyone happy. He will probably end up playing one or two hundred songs so you want to make sure that he has exactly what you are looking for.
It is very important to have a good wedding DJ. Not only do they entertain the crowd, they help to keep things moving smoothly at the wedding. A good DJ will also work hard to get people up and dancing. A DJ with more experience is going to be worth the extra cost. If you are working with a wedding planner or know people who recently got married, ask around to find a good wedding DJ. Make sure that you meet with him and are comfortable. Contact us for any advice that you need for planning your own wedding.
New Hope Soap – Unique gift ideas for Wedding Favors, Wedding Gifts, Bridesmaids Gifts. Great gift ideas for the women in your life – gifts for Mom for Mother's day, for anniversaries, birthdays or just because! Personalized gift ideas for your Wife, Girlfriend, Mom, Sisters, and so much more. Let New Hope Soap help you find that perfect personalized gift for that special someone, with the touch of the luxury lifestyle.