The Wedding Reception Dinner - Culinary Spectacle or Complete Disaster
So, wedding season is coming up and you're having the wedding caterer's dilemma--what is there going to be to eat, how is it going to look, and who is going to put it there? If this sounds like you, not to worry! New Hope Soap has got you covered with 10 top tips on how to find and hire the wedding caterer that's perfect for your upcoming big day.
1. Know your budget
Acknowledging how much money you have and how much you want to spend in the gastronomy department of your wedding will narrow down your choices to a more reasonable number. Decide how much you're willing to spend per person and take it from there.
2. Ask around
Do you remember a wedding you went to where the food was amazing? Find out the contact information of the caterer. You'll already have an idea of the type and quality of food that will be served, and you'll know exactly what to expect--with no surprises or disappointment.
3. Check out online presence
Scoping out the websites and Facebook pages of your potential caterers will allow you to see pictures, prices, and testimonials from the comfort of your own home without having to set up consultations.
4.Figure out how they serve
Do you want each course to be served straight to the guests at the table, or do you want a buffet-style with open-bar area? Does the caterer provide any silverware or china, or is that up to you to secure? These are all important questions you should be asking when deciding on a caterer.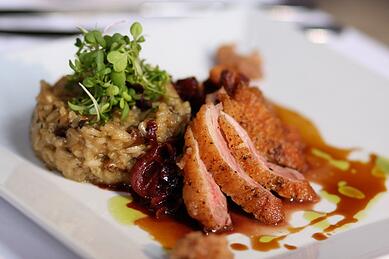 5. Imagine your ideal menu
In your head, you may already have an idea of what type of food--Italian, Greek, Polish, etc.--and what courses you want served on your big day, as well as which you definitely don't want. By having something to refer back to, you'll be able to decide whether the caterers you're looking at are right or wrong for you.
6. Know guests' special diets
If you aren't sure, you might want to check if your guests have any distinct dietary needs--whether they prefer kosher, vegetarian, or vegan food, or if they have any allergies. You should find a caterer that can accommodate these needs.
7. Plan the presentation
Some couples want their food to not only taste good, but also look good. Others do not have a preference if the quality is excellent. If you want your food be presented, personalized, or shaped a certain way, you might want to find a gourmet caterer.
8. Find out their specialty
Some caterers can be flexible and make any food you request, but the quality of that food will be less than stellar compared to their specialties. If there is something that they are known for making--and for making right--that might be your best bet.
9. Consider a favorite restaurant
You and your fiancé might have a special place you frequent together that happens to include a reception area with catering. Taking advantage of this would allow you to save money, eat your favorite courses, and add sentimental value to your wedding reception.
10.Don't wait until the last minute
You should start planning this very important aspect of your wedding very early on. You have to allow time to meet with the caterer, create a personalized menu, and schedule a tasting.
Please feel free to contact us with any questions about how New Hope can help make your big day one to remember.