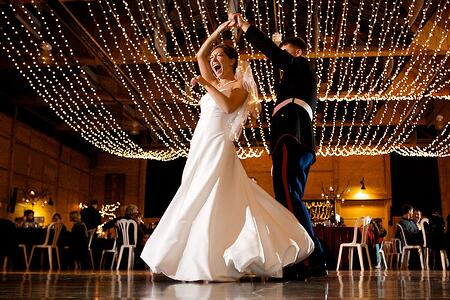 As anyone who has ever been married can tell you, you want everything at the wedding to be perfect. This means the venue; the decorations, invitations, catering, cake and everything else must be looked at time and time again to insure nothing goes wrong. This is particularly true with your decision for the Wedding Entertainment. Every wedding needs music, and there will always be the debate of which is better: a wedding DJ or house band. Both offer their advantages and disadvantages, so it will be up to you to decide which is best for your special day.
Wedding DJ
The biggest advantage to having a wedding DJ is the fact that they have an endless supply of hit songs to bust out. This means your friends can request songs like "Thriller" or the latest Katy Perry track and then dance the night away. DJ's, on the other hand, lack the intimacy that a live band can offer.
Live Band
While you will not be getting the exact song you request when you hire a live band, you will be able to get an intimate live experience that you will be able to remember for the rest of your life. They can customize certain songs to cater to you and your wife or husband and will be waiting to play that special slow song when it is time for the first dance.
If you are planning a wedding, weighing your options as it pertains to the night's entertainment is very important. Whether you choose a live band or a DJ, you will ultimately have reason to justify either. It all comes down to your personal preference.