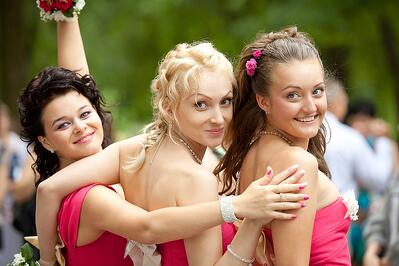 Bridesmaid gifts are especially important because you have asked the bridesmaids to share your day, and this will be an acknowledgement of your friendship.
Each wedding has its own flavor, and you have already made decisions about what yours will be like. Your bridesmaid gifts will reflect that image, too, while retaining a glimpse of their individual personalities.
Let's say you have a healthy budget, and a lot of bridesmaids. You might want to give everybody a similar gift, such as a beach bag, (perhaps filled with soaps and fragrances) and then add something more individualized that will reflect the intimacy and the separate levels of commitment that they have made to your wedding.
After all, some women love being a bridesmaid, while others, while honored and willing, are a bit intimidated or shy about the prospect. All of them, however, need a token of your appreciation.
Someone who attended every meeting, helped you to choose the reception location, and helped to convince everyone to wear those chartreuse headbands, may get an extra gift that expresses appreciation appropriately. Consider a gift certificate to her favorite dress shop, or a dinner for two at a restaurant.
A friend who took a week off from work and traveled 500 miles should get a gold bracelet, perhaps, or a classic set of earrings. (Or discreet help with her hotel bill.)
But your friends will understand a more limited budget. The bridesmaids gifts can be simple and elegant without being expensive. Monogrammed towels or personal fragrances may be appropriate. If you can only afford one bridesmaid gift, consider making it something personalized.
Contact us for more information about creating your special day.