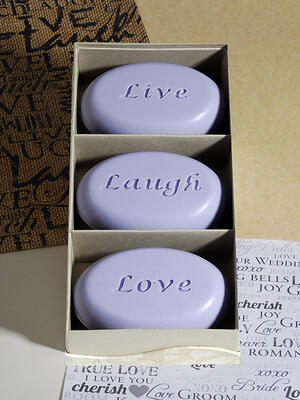 You've made it through the difficult part of planning a wedding: meeting the future in-laws, deciding on a color scheme and staying on budget. Before you can say your "I do's" though, you will need to get your bridesmaid gifts. Around this time, you have probably used nearly all of the cash you have saved for your big day, but don't worry! We are your guides to the perfect gifts without the crack in the piggy bank.
1. Skip the silver bracelets and stick with something fun and colorful like a honeycomb card case! They are absolutely irresistible and come in nearly every color! At $24 a pop, you'll see why we love these buzz-worthy cases. (poketo.com)
2. For the working girl with flair, deco spheres are the perfect gift! Coming in at $35 each, you'll brighten your girls' days without loathing the price. (plantationdesign.com)
3. If you want to keep your budget under $30, personalized monogrammed paper may be the perfect gift for you! Your bridesmaids will be surprised at the detail you have put into their gifts by giving them each their own stack of cards. (sugarpapper.com)
4. For the ones with taste and conscience, a fair trade cosmetic bag is the thoughtful gift! Only $36 and made by Guatemalan artisans, a clutch that can also function as a makeup bag is creative, fun and practical! (proudmary.com)
5. There lies a romantic within each woman's heart, including your bridesmaids'. Buy them turquoise tea-light holders at $12 for the weekly bubble bath or cough, cough other special evenings. (jaysonhome.com)
Feel free to contact us for other great bridesmaids and wedding ideas!
New Hope Soap – Unique gift ideas for Wedding Favors, Wedding Gifts, Bridesmaids Gifts. Great gift ideas for the women in your life – gifts for Mom for Mother's day, for anniversaries, birthdays or just because! Personalized gift ideas for your Wife, Girlfriend, Mom, Sisters, and so much more. Let New Hope Soap help you find that perfect personalized gift for that special someone, with the touch of the luxury lifestyle.