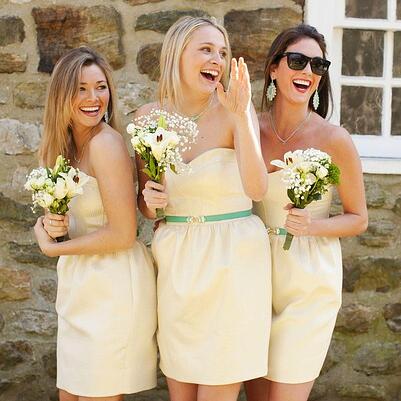 You've found the groom, the venue, and your perfect wedding dress--but now don't forget to dress the ladies who will be standing by your side on the big day. Bridesmaid dresses can be tricky, and sometimes the prospect of picking out a dress that fits the wedding and your bridesmaids can be overwhelming. Don't panic: if follow the suggestions below, both you and your bridesmaids should be happy with the result.
1. Be budget-minded
You can't expect your bridesmaids to break the bank on a dress that--let's be honest--they probably won't have an opportunity to wear again. When you're first going dress shopping, decide on a reasonable price per dress and stick to it.
2. Stick to a timeline
You should begin looking for your bridesmaid dresses six-to-eight months before the wedding. This leaves plenty of time for you to pick the perfect dress, have fittings, and get alterations done, and doesn't leave you stressing for time at the last minute.
3. Complement your style
You don't want the bridesmaid dresses to clash with your dress--or even worse, overshadow your dress completely. You also want to keep in mind the colors, theme, and location of your wedding. A short, flashy dress may not fit seamlessly with a traditional church wedding, and a taffeta gown probably won't complement a boho beach wedding.
4. Get creative
You might want to head to a bridal shop to start your bridesmaid dress hunt, but don't forget that there are alternative routes to go as well. Try consulting the Internet--you may be able to find that perfect dress for a portion of the price by searching online. You can also try seeking out smaller boutiques and non-traditional shops, who may even be able to give you a good deal than a chain would.
5. Consult your friends
If you have a dozen bridesmaids, you're not going to please everyone--but you can certainly ask your Maid of Honor or a fashion-minded bridesmaid to accompany you dress shopping. They'll be able to give you a second opinion on the dresses you choose and maybe help point you in a direction you never considered.
6. Mismatch
If you're concerned about choosing a dress that will please everyone, or just a dress that will please you, think about giving your bridesmaids the freedom of choice. You can pick a color and give your bridesmaids some guidelines about length or style, and then ask them to choose complementary dresses for a chic, non-traditional look. Alternatively, if you want everyone to be in the exact same hue but can be flexible on the style, pick out a fabric and allow them to pick between a few style options.
Picking the perfect dress is hard, but it's worth it! After you've picked the perfect dress, contact us for help getting your bridesmaids a gift from our selection of fabulous personalized goods
New Hope Soap – Unique gift ideas for Wedding Favors, Wedding Gifts, Bridesmaids Gifts. Great gift ideas for the women in your life – gifts for Mom for Mother's day, for anniversaries, birthdays or just because! Personalized gift ideas for your Wife, Girlfriend, Mom, Sisters, and so much more. Let New Hope Soap help you find that perfect personalized gift for that special someone, with the touch of the luxury lifestyle.