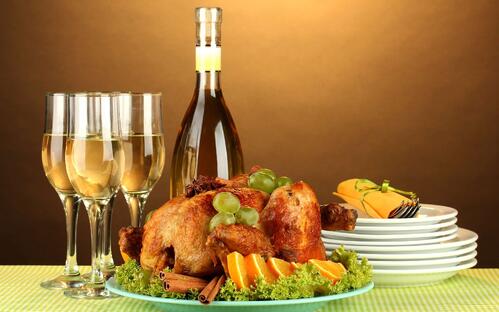 During the holiday season, it is easy to put just a little too much of that yummy food on your plate and then stuff yourself eating it all. There's nothing wrong with eating a little extra during the holidays, but if you are constantly overeating, you won't feel very well when the holidays are over. Take a look at tips 1-10 of the 20 tips to avoid holiday overeating to keep from overindulging this year.
1. Give Yourself Breaks- Take a few breaks between plates of food. If you eat slowly and take a break before going back for seconds, your body will have time to digest and let you know when you are full.
2. Don't Starve Before Meals- If you spend all day starving yourself so that you can eat as much as possible during dinner, you are going to eat much more than you normally would and pay the price afterward.
3. Try One Bite of Everything- Take just a small bite of every food that seems appetizing to you. Then you can decide which ones you definitely want to eat, and which ones you can pass on.