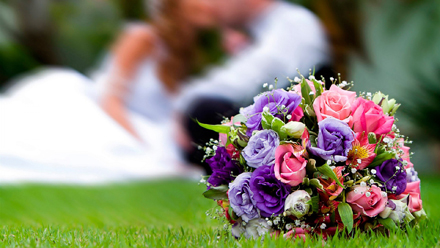 Once you have made the choice to have a DIY wedding, there are many other decisions to make. You need to decide on decoration color and size, flowers, and wedding favors just to name a few. The internet has a plethora of information and ideas. We have done some of the leg work for you and have put together the top 20 wedding planning websites for the DIY bride.
1. DIY Wedding has a ton of ideas, and even templates, for the DIY bride. They are a great place to start because they have wedding ideas broken down by the four seasons.
2. You must check out the DIY Network's top 100 wedding projects.
3. Wedding.com has a great list of do's and don'ts for the DIY bride
4. The Knot has a little bit of everything from tips to ideas. How much fun would it to be to for your guests to complete an I Spy adventure...
5. DIY Wedding Magazine not only has great ideas, but also has colors and themes. This purple & pinwheels would be fun for a spring wedding.
6. The DIY section of Intimate Weddings has several categories to choose from; ranging from centerpieces and flowers to wedding favors and bridesmaid gifts. Glow jars would be beautiful at a night wedding.
7. Project Wedding is a community site. People submit pictures and instructions in order to share their ideas with other bride-to-be's. One example are these heart dessert toppers.
8. Wonderful DIY provides you with an alternative to a traditional wedding cake - a cupcake wedding dress cake.
9. Wedding Window has a section just for the DIY bride. From signs to wedding favors, they have ideas for any wedding. You are sure to find something on their 101 DIY wedding project list.
10. From beginner to crafting pro, Bridal Guide will have an idea that you will just love.
11. You can purchase just about anything wedding from Pink Frosting. For those homemade projects that need a finishing touch like a personalized sticker on your wedding favors.
12. Bride Craft has some wonderful ceremony decorating ideas. A unity candle can be decorated in many ways, to fit any theme.
13. DIY Weddings (mind the 's' on the end) has some expert advice on flowers and florists. They even offer advice on how to preserve your wedding bouquet.
14. For the thrifty bride, Wedding Chicks has 15 DIY projects for under $50. They are also helpful in locating online wedding vendors and to add a little inspiration to your planning.
15. Wedding Vibe lets you see how others have developed themes for their weddings. Check out this vintage inspired wedding.
16. If you are looking for easy centerpiece ideas, head on over to My Online Wedding Help. From flowers, to candles, to candy you'll find something that fits just perfectly.
17. Trying to save a little money but don't know where else you can make cuts? Super Weddings has a great step by step how to make a bridal bouquet.
18. The Wedding Specialists is a site full of good advice. They let you know how to tip your vendors, what not to eat before the wedding, and 6 food and drinks not to serve at the reception.
19. If you are looking to have a country style wedding then Rustic Wedding Chic is the website for you. Tin can wedding pieces and burlap wrapped bouquets are just two of the great ideas they share.
20. What is a DIY self website list without Pintrest? Search by color, theme, or season and you will find hundreds of ideas. This pin has great ideas if you are throwing a simple autumn wedding.
No matter the season, color, or theme of your wedding you can always find plenty if inspiration and ideas in the internet. Contact us with any questions, and stay tuned for more valuable wedding tips and tricks.