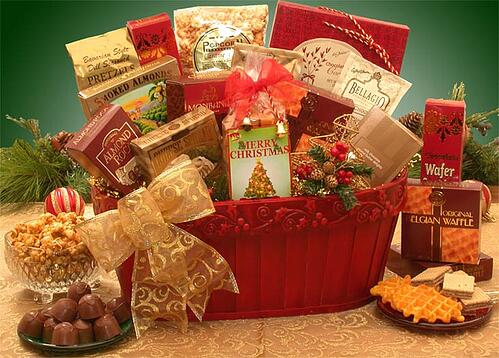 Gift baskets make great holiday offerings, whether you go with a small, personal collection or the over-the-top version. These
20 tips for making holiday gift baskets both personal and corporate
will help you ensure that your gift is the perfect fit for friends, family or clients without fuss or muss.
First, choose a theme for your basket that matches the recipient's interests or passions. This helps make the gift a cohesive unit, and it shows that you put some thought into personalizing it. For your foodie friends, go with a cooking-themed basket containing things like a cookbook and utensils, out-of-the-ordinary seasoning blends or a special ingredient. Give your party host a basket with cheeses, candied or spiced nuts and some crackers, or thrill your office mate with coffees and teas, biscotti and some fine chocolates
Choose a smaller container than you think you will need. Contents can get lost in a too-large basket, and you want them to show up and shine.
Think outside the basket when selecting a container. Use a flowerpot, a reusable tote, messenger or lunch bag. For smaller gift baskets, use a coffee mug or even a shoe or boot as a container. Serving bowls and trays also work well with food-based gifts. Check garage sales and resale shops for containers, and don't worry if they are a little well-used; a can of spray-paint will cover a lot of scratches and scrapes.
Save money and fuss by stuffing the bottom half of the container with paper bags or newspaper before topping that with decorative shreds. Instead of expensive filler, use your office shredder and some leftover gift wrap to create a decorative bed for the basket's contents.
When you can, shop with the container in tow to give you a better idea of how much you need to fill it. Plan to overfill the container, placing the largest item on the bottom and in the center, then surrounding it with items of a variety of heights and sizes. Use cooking skewers, craft or florist foam blocks and glue dots to hold things upright and to keep them in place. Wrap breakables in pretty holiday fabric or kitchen towels to protect them while adding a colorful touch to the gift. Use alcohol or cooking oil to remove the glue residue from price tags and product labels.
Now, choose your contents according to the theme. Check clearance racks all year for larger items, and shop the dollar store for smaller, fill-in additions, like candy canes, candles or ornaments. Be sure you know about any allergies recipients might have, especially if you are making food baskets, and don't put chocolates or other food items with perfumed soaps or candles unless you double-wrap them in cellophane first. While scented soaps make a great gift, no one really enjoys soap-flavored chocolate truffles!
If you decide to make a fruit basket, citrus and apples make a great beginning, but throw in a few more exotic or less familiar choices like pomegranates, persimmons or star fruit. A pineapple makes the perfect centerpiece for a fruit basket, and be sure that you include some fruit that isn't completely ripe yet, so the gift can be enjoyed longer.
Themes really do make filling your basket easier, especially when the recipient isn't a close friend or someone you know well. Create a pampering basket with hand and body lotions, scented soaps, aromatherapy candles, bath salts, essential oils and a decadent cake or chocolates. Add some sunshine to dark winter days with an all-yellow basket that includes candies wrapped in yellow, lemonade mix, yellow candles and other similar items. Encourage a receiver's love of correspondence with a lap desk filled with pretty notepaper, notecards, a letter opener, personalized seal and wax, colored pens or pencils and, of course, postal stamps. Treat your garden-loving client to a terracotta planter filled with new work gloves, kneeling pad, hand tools and seeds, along with a journal and a subscription to a great gardening magazine.
Add the perfect finishing touches to the basket by wrapping the whole thing with cellophane, tulle or cheesecloth. Tie a large, colorful bow and add a reusable bookmark as the gift tag.
Contact us for more suggestions for the perfect holiday gifts.