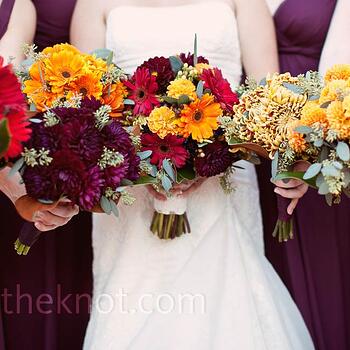 Fall is normally known for all of its beautiful colors. If you are planning a fall wedding, the Wedding Color Trends for Fall 2014 will not be disappointment. There are colors for every theme, style and taste.
A bold theme
A wedding with a bold theme, needs a bold color to complement it. Cranberry is the bold color of the fall season. Pair the cranberry with one of the hot neutral colors such as bronze or camel for an unforgettable look.
The blues are always in season and this season the top blues are teal and navy blue. Pair teal with a cream or other neutral color for a lavish look. Navy blue will work well for a nautical theme wedding. It is also one of those colors that everyone looks great in. Navy blue can be sophisticated as well as preppy.
Light sage Wedding
You can not consider talking about the fall season without including sage. It is an earthy color that will work well with many different colors. It will also pair well with the season's foliage. This is a great color to consider for flower arrangements and bouquets.
Neutral Wedding Color Themes
Camel and bronze are the neutral colors for the fall season. Not only will they complete most of the other popular colors this fall, they can also stand on their own. Camel will create an element of elegance, while bronze will create an element of warmth.
Purples are not necessarily considered a fall wedding color however thanks to the popularity of the purple orchid color, purple shades are in for the fall. For a warm vivid purple consider sangria. Looking for a purple that is a little more subdued, consider the mauve. They grey undertones help it to be an understated but lovely choice of purple.
Pumpkin Weddings
If you are looking for colors that truly reflect the season, do not forget the shades of pumpkin. Nothing says fall like a pumpkin.
New Hope Soap – Unique gift ideas for Wedding Favors, Wedding Gifts, Bridesmaids Gifts. Great gift ideas for the women in your life – gifts for Mom for Mother's day, for anniversaries, birthdays or just because! Personalized gift ideas for your Wife, Girlfriend, Mom, Sisters, and so much more. Let New Hope Soap help you find that perfect personalized gift for that special someone, with the touch of the luxury lifestyle.