By Linda Hilliard - Author of the Book
E-mail Your Weight Away - Diet Dialoges for Women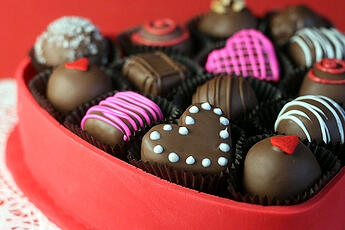 No matter where you live - this has been an unpleasant winter. The only bright spot at this time of year is Valentine's Day with its cheery colors and sweet messages of love.
Oh, no Valentine's Day! That means large heart-shaped boxes of chocolates (yum, caramels!); checkout counters displaying marshmallow treats (only 50 cents each); bakeries showing cakes with thick red and pink frosting; M&Ms in red and white; and those melt-in-your mouth little chocolate hearts wrapped in red and silver foil... STOP!
What is a dieter to do?! Especially a dieter who has a sweetheart or friends who are apt to present a two pound box of chocolates or bags of those yummy chocolate hearts wrapped in foil (okay my favorite!).