By Linda Hilliard - Author of the Book
E-mail Your Weight Away - Diet Dialoges for Women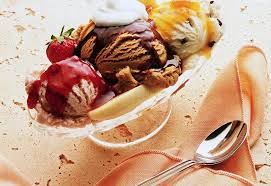 A few years ago I was in a large diet group (one of so many in my life) and one of the regulars said, "I'm going on a cruise next month so I'm going off my diet until I get back." And I silently thought "How stupid is that?!"
Apologies for this attack, but those who make the decision not to diet until AFTER their vacation are kidding themselves. You will always be an eternal dieter (as I was for decades) if you make advance plans (excited plans) to go off your diet. The person who announces "I'll diet after I've eaten ice cream cones every day of my vacation" is the person who comes back from vacation complaining that she's gained 5 pounds (on top of the 5 pounds she gained on the previous vacation).
Now I'm not so militaristic to say that you shouldn't enjoy the food bounty of your time away. Hey, I love ice cream (with fudge sauce). But get real. You are either a committed dieter who truly wants to lose weight – or you're a pretend dieter (will you even admit that to yourself?) who gives it lip service.
Vacations are NOT a license to go off your diet! Pretend Dieters woefully lament: "I can't figure out why I'm not losing weight" (This from the same person who announces "The diet begins – next week.")
If you are a Committed Dieter, you can come back from the most bountiful array of foods and NOT have gained. You pick and choose your treats. Want that ice cream sundae at the end of a relaxing day? Then select the healthy diet meal for your main dinner course. Want baked stuffed lobster? Sure! But don't top it off with a slice of key lime pie. Want a pina colada (yum!)? Have one and truly enjoy it, then switch to a lighter calorie drink.
And whether you are doing a land tour from a cruise ship- or walking at your favorite local beach – KEEP MOVING! Walk, walk, walk (okay stroll, after all you are on vacation).
If you're heading off on vacation, have a wonderful time! Planning to put your diet on hold while you're away? That's your choice – but no complaining when you get back that the scale is up. And before you announce that this is a No Diet Vacation, consider how nice it would be to go on next year's vacation a size smaller (instead of a size larger).
Linda's Book is available on Amazon!
Kindle Edition
New Hope Soap – Unique gift ideas for Wedding Favors, Wedding Gifts, Bridesmaids Gifts. Great gift ideas for the women in your life – gifts for Mom for Mother's day, for anniversaries, birthdays or just because! Personalized gift ideas for your Wife, Girlfriend, Mom, Sisters, and so much more. Let New Hope Soap help you find that perfect personalized gift for that special someone, with the touch of the luxury lifestyle.