By Linda Hilliard - Author of the Book
E-mail Your Weight Away - Diet Dialoges for Women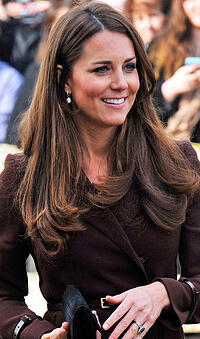 I remember when Kate Middleton was preparing to marry Prince William and a newswoman observed that like so many brides, Kate was trying to lose a few pounds. I was shocked. Kate seems (to me) to be extremely thin and hardly in need of "Shedding a few pounds."
There's no denying that brides often go on diets before their weddings. In fact wedding dresses purchased in January may need to be taken in a bit before the June nuptials.
Watching my own two daughters walk down the aisle, I totally understand the desire to be thinner for that special day (hey, mother-of the brides here also shed a few pounds for the occasions).
HOWEVER, when it comes to dieting for a wedding, I would caution brides (and the entire wedding party) not to succumb to "I have to be stick thin to be beautiful" thinking.
Going crazy with a weight loss effort could make for an unhealthy bride whose special day is marred by looking gaunt and feeling lousy. Not to mention, turning her into a bitch!
On the "Mike and Molly" wedding television show, Molly wanted to lose a great deal of weight for her wedding. Her diet didn't go well and she turned into an absolute shrew. On a TV comedy, that was pretty funny. Had Molly's personality change been real life she could have ruined her own special day– and her groom could have had second thoughts about what he was getting into.
Weddings are such a special time that you want to look your absolute best. Healthy food and not starving are important considerations as well as planning several months ahead to lose weight slowly and steadily.
Brides (and grooms): You need to know that if you walk down the aisle not quite at your weight goal, your life partner (the person who loves you at any size) will not really care. And wedding attendees will only be looking at the glow on your face.
New Hope Soap – Unique gift ideas for Wedding Favors, Wedding Gifts, Bridesmaids Gifts. Great gift ideas for the women in your life – gifts for Mom for Mother's day, for anniversaries, birthdays or just because! Personalized gift ideas for your Wife, Girlfriend, Mom, Sisters, and so much more. Let New Hope Soap help you find that perfect personalized gift for that special someone, with the touch of the luxury lifestyle.
Linda's Book is available on Amazon!
Kindle Edition