By Linda Hilliard - Author of the Book
E-mail Your Weight Away - Diet Dialoges for Women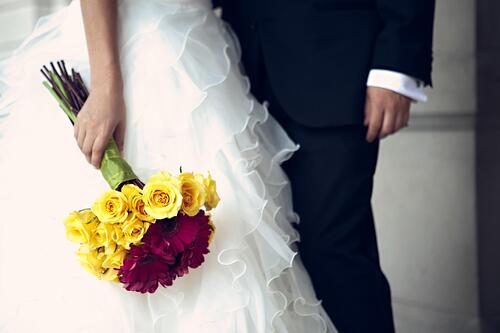 Every bride looks beautiful on her wedding day (and let's hear it for the mothers-of-the-bride and groom, too).
As the guests ooh and aah over the loveliness of the wedding party, it's probably just as well if they don't know about some of the behind-the-scenes angst. Didn't there used to be a television show called Bridezilla? I never saw it but I can imagine losing weight so a dress fits could take up several episodes and reveal the worse side of a bride's personality.
Having "married off" two daughters of my own, I know how brides suffer over those extra pounds before the big day. I'm sure one of the little known big moneymakers in the wedding biz are those seamstresses who take in – and take out – the bridal party dresses in the weeks before the wedding.
So here's a little advise from someone who's been through it:
Be realistic about your dress size. Sure – every bride would like to be a waif-like size 4, but unless you're already a petite size, it's unlikely you'll be there on your wedding day.


Realize that when your fiancé asked you to marry him, he asked the woman who he fell in love in – at her size at that moment. Unless he's a jerk and says "I want you to lose 25 pounds before I will marry you," you probably look pretty good to him as is.


Be realistic about how much weight you want to take off before the wedding. You can dream "I will lose four pounds a week and be down 60 pounds." Really?! The best, most healthy diet plans say two pounds a week. Do your math a little better about your loss potential.



And finally, buy a dress that is appropriate to your body shape. Those sheaf dresses that show every curve can be gorgeous, but if your curves are in the wrong places, reconsider. Just because a dress look lovely in pictures does not mean it is meant for your body.
When you buy that wedding dress (or mother-of-the-bride dress), take good – and honest – advisers with you. Better to have a good friend tell you that the plunging neck and backless wedding dress is not you, than to have shocked wedding guests and a stunned groom.
Linda's Book is available on Amazon!
Kindle Edition
New Hope Soap – Unique gift ideas for Wedding Favors, Wedding Gifts, Bridesmaids Gifts. Great gift ideas for the women in your life – gifts for Mom for Mother's day, for anniversaries, birthdays or just because! Personalized gift ideas for your Wife, Girlfriend, Mom, Sisters, and so much more. Let New Hope Soap help you find that perfect personalized gift for that special someone, with the touch of the luxury lifestyle.